The plasticizer from renewable sources that guarantees the flexibility of your product.
Yet with the compliance that the environment requires today.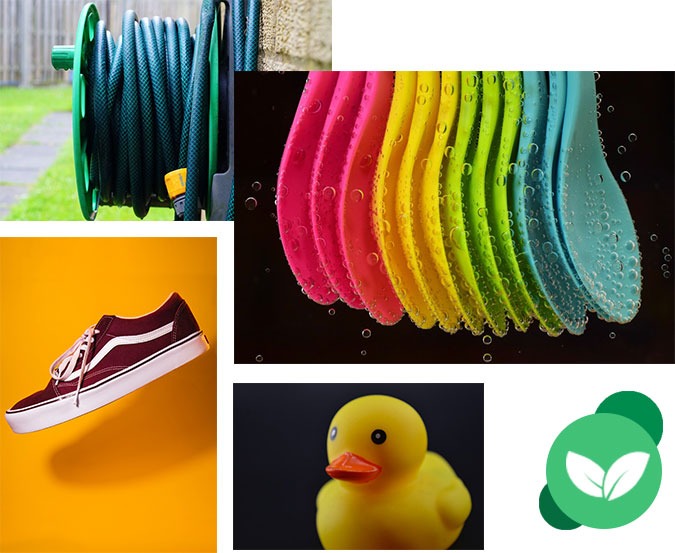 Petrom
Technology, environmental responsibility and quality
Since it began its operations, Petrom has always made a point to serve its customers in their most diverse and challenging requirements.
Thus, in response to a growing worldwide market demand for environmentally sustainable raw materials and products, Petrom began in 2005 an intensive research project to develop plasticizers from renewable sources with a capacity to combine high performance with sustainability.
The result of this research could be no other than our new PLS Green: a new line of plasticizers produced with renewable molecules and suited to a wide range of applications.
With superior performance to existing alternatives, PLS Green adds to the already broad portfolio of high reliability plasticizers by Petrom: the largest manufacturer of Phthalic Anhydride in Latin America and a company fully committed to the growing global standards of quality, safety and environmental responsibility.
PLS Green: a line of bio-based monomeric plasticizers boasting several advantages.
Tests conducted at Petrom's Center for Development and Innovation and other external laboratories have confirmed the excellent performance of the PLS Green line of plasticizers under a wide range of applications such as stretchable films, shoe soles, hoses, toys, laminates, coated fabrics and calendering as well as in wires and cables.
The PLS Green product line is a safe alternative and its use requires little or no change to the formulation and processing conditions when used in the place of conventional plasticizers.
Compared to other bio-based plasticizers available on the market, PLS Green presents less volatility during processing, thus leadings to better retention of the product in plastic and ensuring a higher quality end product.
Additionally, high thermal stability and excellent flexibility characteristics at low temperatures are further differentials for the compounds formulated with PLS Green.
Specifications:
PLS Green 5 (Iso-Pentyl Epoxy Soyate)
Guaranteed Specification (EPF-041 Rev.05)
| | | | |
| --- | --- | --- | --- |
| Density @ 20 ºC | MAX. | g/cm³ | 0,934 |
| Moisture | MAX. | % wt | 0,10 |
| Acid Number | MAX. | mgKOH/g | 2,0 |
| Ester Content | MIN. | % wt | 99,00 |
| Appearance | # | # | Clear liquid, pale yellow |
Further Information
| | | | |
| --- | --- | --- | --- |
| Oxygen Oxirane | MIN. | % | 5,4 |
| Residual Alcohol | MAX. | % | 0,1 |
| Viscosity | (20ºC) | Cp | 29 - 32 |
Packaging
Shelf Life
Material safety data sheets:
Stay in touch
Rodovia Dom Paulo Rolim Loureiro, Km 9 – Vila Moraes
CEP 08766-500 – Mogi das Cruzes/SP – Brazil
+55 (11) 4798-7500